Hello and welcome to OGS! You are free to start your own tournaments on this website, and in order to do it properly, I want to explain some basics to you!
Being a tournament director can be a lot of fun and enjoyment, but you also need some preparation, so that it will be fun for everyone that participates.
Now, let's get you started!

Before you can create a tournament, you need to be the member of a group. This is done farily easy, since you can create either your own group, or join one of the existing ones!
Click on the circled red area to get to the group menu. Here, you will have a nice overview of the already existing groups. Perhaps you want to join a specific one? Use the search function to find a group quick and easily:
If you want to create your own group, just scroll to the bottom of the group menu and click the following link:
Once you have done one of the above options, you are good to go! Congratulations!

The next thing you want to do, is to browse to the group page that you just joined. This is also accessible from the left-side menu. I have marked the three easy steps to create a tournament with 1, 2 and 3 for you!
Let's get ready for the real action!
The menu that comes up has a lot of preferences and options to take, and it can be quite overwhelming for a beginner. Before you actually start, spend a few minutes to think about the general type of tournament you want to give:
Do you want to create a live tournament, or a correspondence tournament (which might take months to finish)
How many players do you aim for?
Think about a starting date for your tournament. When it's a live tournament, you must include a starting date!
Make up your mind about the rules! As a tournament director, you have some power over a game outcome. How will you deal with conflicts between player? Or how to deal with cheaters?
Will there be a price?
The more time you spend with thinking about these (sometimes minor) problems before actually starting the tournament, the better and smoother it will run in the end.
Now, let's have a look at the specifics:
Group stands for the group that actually hosts the tournament.
Tournament Type is an interesting choice, because it changes the general behavior of the multiple rounds. Do you want a knockout-system, or a system where everyone plays against everyone once? Here's your choice! There is a good basic writeup about the different types here.
Exclusivity: Do you want to create a private tournament where people get invited, or is it open for anyone? Your choice!
Bars is a choice for the McMahon tournament in this example. It is well explained on the tournament type writeup I posted above.
Max rounds is important for some of the tournament types.
Maximum Number of Players is self-explanatory.
Chose a cool name for your tournament on this one! You can change the name later, even when your tournament has started! So don't think too much about it for now, just go with your first ideas.
Set a start time for the tournament. The calendar shows local time, so keep that in mind if you're going to share the tournament with users from different timezones (you can see how to convert yout local time to any other timezone here).
The Description is one of the most important fields! It is very nice to enter some basic description, of what you have in mind for this tournament. You can also add possible prizes and other information here!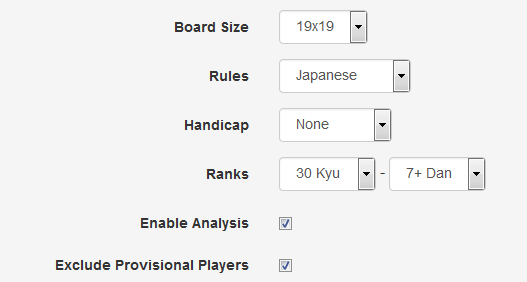 Board Size determines the size of the boards played on. 9x9, 13x13 and 19x19 are the only choices at the moment and most common.
The Rules option is very important, because you need to choose the proper ruleset for your tournament. Most basic tournaments go with Japanese rules, because those are the most popular in the western world. The choice is yours, though!
Handicap is an important choice, if you want to create very interesting games for your players. It basically gives the weaker players a few stones to place, or extra-points (depending on ruleset) before the game actually starts. It might even be unfair in some occasions, when someone has an unstable rank. So choose wisely.
"Ranks" determine the allowed ratings, that players are allowed to have when they sign up for the tournament. (Example: 30 Kyu to 20 Kyu). You can actually invite players with a different rank (from your settings) when you are the director, and players can join within the rank limits and change their rank afterwards. So you want to check the signed up users for cheating, before you start the tournament!
Analysis is an ingame feature that allows players to check upon certain moves before they are played. You should consider, if you really want to disable it for your tournament. It is considered a good choice in live games, so players have to think themself in a short time-frame. For longer, correspondence tournaments, it's not really a good choice, because some players will just do the analysis elsewhere and have an advantage over "fair" players.
The last option is possible to exclude players that haven't played 5 or more ranked games, and are still "provisional". Usually a good choice, unless you want to create a tournament for total beginners.
Time control sets the times that you want to use for your tournament. You can choose between some basic variants, and I will explain them shortly:
Fischer adds a specific amount of time to a "total time", after every move. (Example: Start with 1 minute, every move gives you +15 seconds)
Simple will give you a certain amount of time per move. If you do not move in that time-frame, you will lose. After you made your move, that time frame is reset. (Example: 2 minutes per move)
Byo-Yomi time will give a total time amount, and then start, once the "total time" is used up. You get a Byo-Yomi period (usually 30 seconds), in which you have to play, or you lose that one period. When your play is inside this time-frame of 30 seconds, your time will reset to 30 seconds. If you lose all of your periods, you will lose the game.
Canadian time gives you a total time amount, and then start once the "total time" is used up. (Similar to Byo-Yomi). The main difference is, that you have to play a certain amount of stones in the specified time, or you will lose the game. If you manage to play that certain amount of stones, the specific time is reset to it's base value. (Example: 25 stones in 10 minutes)
Absolute stands for an absolute time amount. If that is used up, you will lose the game.
None is not recommended for tournaments, because players will have an eternal time amount for every move.
Click on "Create Tournament" and you are ready to go! I hope you enjoy your tournament and have a great time on OGS.