Let's start at the top:
Clicking the OGS symbol will open the menu.
###The Menu###
####Navigating games####

This link will take you to a game summary page. Your current games will be visible as well as any pending challenges and your friends list.
This link will take you to a page with an enlarged version of the seek graph. It will display any live games in progress.
This link will let you create a new open challenge. See this.
This link will take you to the OGS chat. Come in and say hello. We're pretty friendly.
####Mail####
Your site mail.
####Profile####
View your stats and access your games and demo boards.
####Settings####
Site settings. Board style, sound, notification preferences, etc…
####Support OGS####
Like what we've done here? Help us out a bit! Our community has been very generous and we are eternally grateful to you for making this the best place to play go online!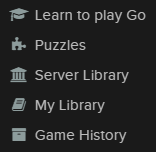 ####Learn to play Go####
A tutorial to introduce you to the rules and basic play.
####Puzzles####
Create or solve go problems.
####Server Library####
Here you can search through all of the sgf available on OGS
####My Library####
Contains games that you have uploaded and games that you have favorited.
####Game History####
This will take you to your personal game history on OGS.
This is where you can monitor your site participation and access our forums (hint: you are here

)
This will log you out of OGS, but we hope you don't click this one too often.