You are go addicted when… you strike a pose of a goban on mars!

Wrong thread

The cover of Spindrift, the 2019 tsumego book / commercial puzzle collection by xhu and Leon Chen.
I like the font :D
Yunzi stone against the sun, very charmingly hand-modelled by @trohde, from the 2018 thread Green go stones?
Green glass stones on the board made by @Skurj (before staining & gridding), from the same thread.
Tattoo on the arm of @crocrobot, from his 2016 thread Looking for artistic direction
Did you ever get the follow-up on the outer arm, croco?
---
Sticking this on because I'm already at three posts:
With thanks to @Plum_Talk and his thread Aver & Move 78 - The Algorithm Smiles Upon You MUSIC FOR GO
The name of the artist is "Aver & Move 78" and the album is called "The Algorithm Smiles Upon You".
Programmable LED board from AI Physical Go Board!- Review added - #39 by Nchristie. Regular viewers of DanielML's twitch streams will now that he has a more advanced board with colour-changing LEDS that respond to chat interaction.
I wouldn't want to be at the bottom of one of those bowls!
Real estate weiqi show room (shared with a small tea shop) Weishan Yunnan.
Note: the thing with black and white dots on the wall is a light.
I see.
It has weird positions on it, like captured stones not removed
that dog head should have much thicker lines
@Samraku's hand-drawn kifu of the Haze–Gia–Samraku tricolour balancing game, from June: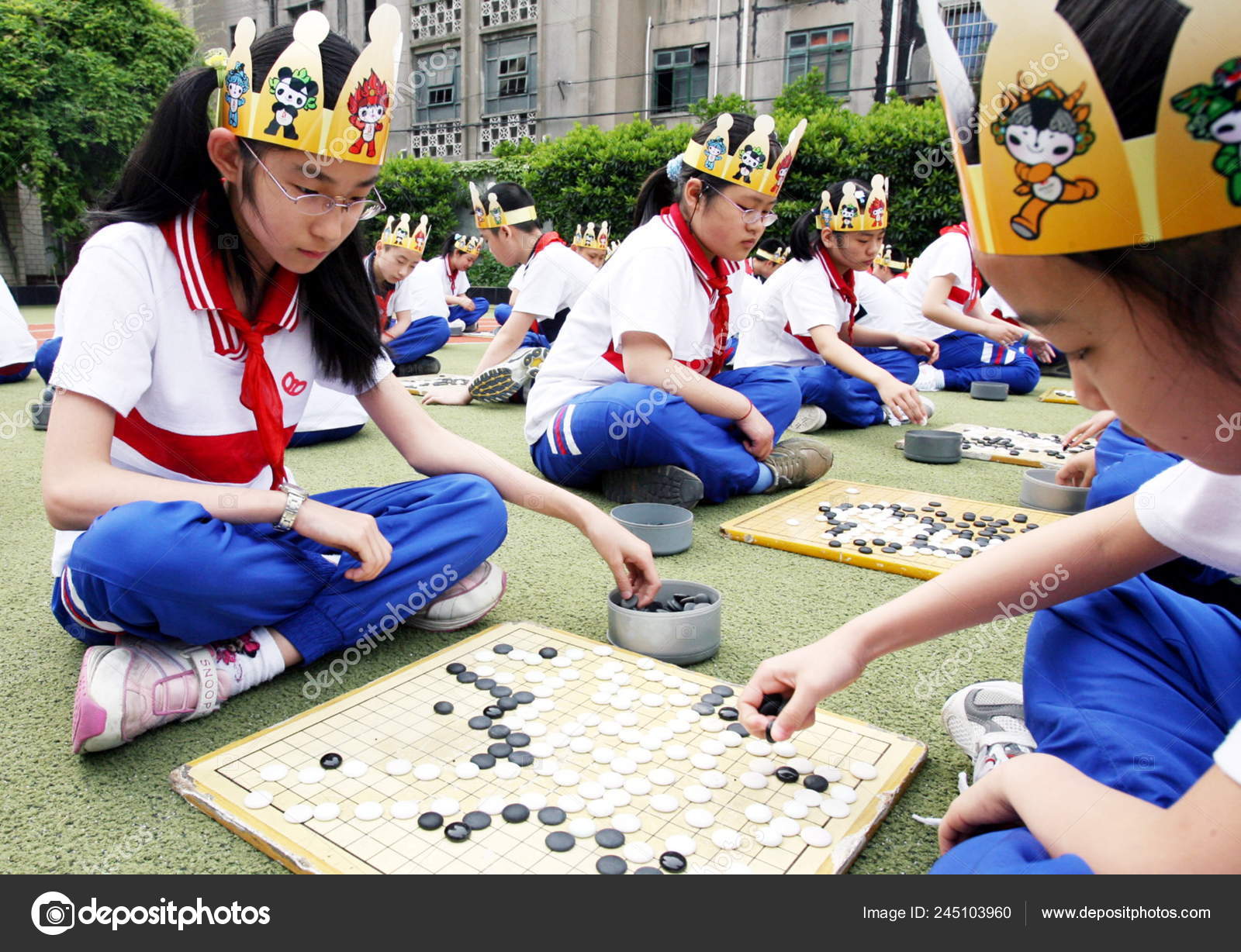 Chinese students play Go at Suzhou Nanhuan Center Primary School in Suzhou city, east China's Jiangsu province, April 30, 2008
Corona in China already in 2008! I knew it.
(Sorry, couldn't resist.)
Let's be real for a moment - the Beijing Olympics mascots were the best mascots of any Olympic games. This isn't an "I like them better", it's that they're the only ones where I would believe that a design firm was hired instead of someone forgetting their mascot submission was due and pulling their 4-year-old's best drawing off the fridge to turn in.
EDIT: I left out crucial info for this to be relevant. The characters on the children's crowns are the Beijing Olympics mascots.
London, were you like "Pokemon are cool, let's make a weird bus pokemon thing"

Athens, just, come on. Also, WHY does one of them have weird circle-with-an-X boobs drawn on their shirt?!

and Tokyo 2021 looks like as if it was designed by SEGA Sonic Team)
Cover of the album One Foot on Either Side of the Ladder by The Mole
With thanks to frankiii's blog
BGA badges, 2018, from Junior Go Grade Badges | British Go Association
The British Go Association has introduced a series of badges, available for juniors, to reward their progression through the Go grades. Guidelines are available to organisers of youth clubs who issue badges so that youngsters with the same badge should be about the same ability. They cover grade bands of players from those who just learnt the rules through to those in the single kyu grades. The ultimate badge to collect, with the flame motif extra, is the one for making it to the Dan grades.

For more information contact Alison Bexfield (Youth Squad Coordinator) at ynews at britgo.org
With thanks to teapoweredrobot for his post Teaching go to kids in Europe - #17 by teapoweredrobot
A newer drawing of an olden player, the 2014 (?) Google doodle of Shusaku
---
I found zchenmike!
Michael Chen (8d) playing simultaneous games with 5 players that were around SDK players (i.e., 1k to 9k).
1st Washington Open Baduk Championship, 2014, from BenZenGo's blog post on the event.
For those who don't know him, Mike is a regular streamer. He's been a very strong player for over fifteen years.
---
Blind players using a haptic (touch-friendly) board, in which the empty moku look to be indicated by indentations.
Courtesy of the MySanRenSei blog.
---
Go Seigen with Iyama Yuta and Yamashita Keigo, presumably in 2014 on the occasion of his hundredth birthday. Again from MySanRenSei.